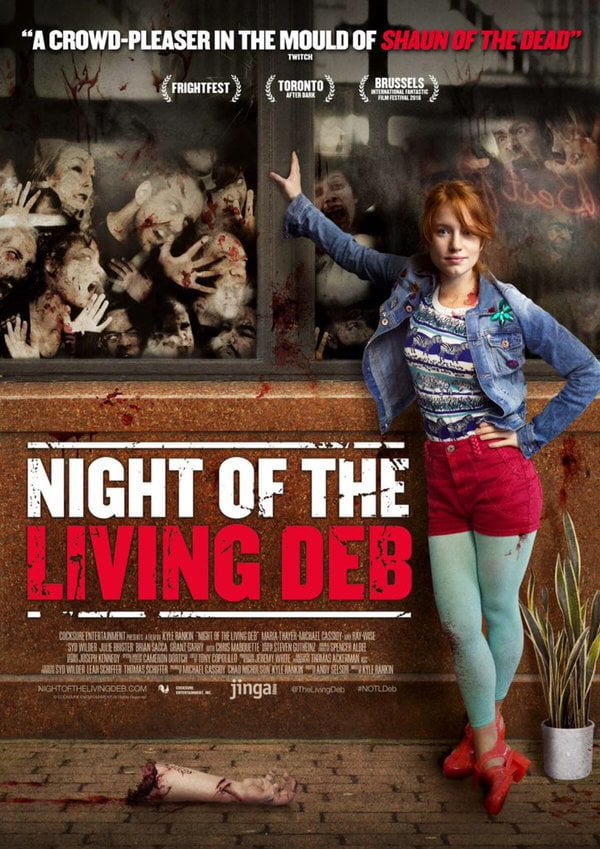 The Pick: I've had this particular film on my radar for some indeterminate amount of time now. I'm guessing that I first saw Night of the Living Deb show up on Netflix maybe 6 months ago and added it to My List around that time, but if you told me that this occurred over a year ago, I suppose I would believe you. What I do recall is watching a trailer for the film and immediately thinking that this one looked special.
The Film: As the poster for this film states, I found Night of the Living Deb to be a real crowd-pleaser of a film. There is a light hearted, comedic tone to this tale, which finds the titular heroine, an unrefined redhead named Deb, waking up after a one night stand to find herself thrust into a zombie outbreak.
Maria Thayer brings an adorable manic quality to Deb, and it is largely the strength of her comedic performance which propels this movie forward. Along for the ride is local heart throb and other one night stand participant Ryan, played by Michael Cassidy. Michael does a good job playing the good looking but shallow social justice warrior, who manages to portray this character while never quite crossing the line and becoming unlikable.
In terms of character progression, Deb mostly remains a static character throughout the film. Ryan, on the other hand, begins the film as "that guy" after a one night stand- trying his best to get Deb to leave his apartment the following morning. As we learn more about Ryan, we discover a character that feels ashamed of the privileged life he's been afforded, and, through the events of the film, he grows into a more proactive and amiable character.
The film itself goes some interesting places and does develop its own zombie lore. There are a number of entertaining side characters in the film, including Ryan's younger brother, Chaz. and Ryan's ex-girlfriend, Stacy. The entire cast benefits from the strong chemistry they share. Special mention to Ray Wise who brings the evil charm while playing Ryan's father. Wise does his usual best here; chewing the scenery whilst baking a very special batch of Independence Day brownies.
The zombie action in this film is largely mild, and those scenes are played for comedic effect. The film is missing the unabashed gore which helped similar-toned film Shaun of the Dead reach legitimate fanfare amongst hardcore horror fans. This will help Deb be more of a company-friendly film but will be less likely to appease longtime genre fans. Overall, I quite enjoyed this one and I look forward to future films staring the captivating Maria Thayer.
Four stars.